by Josh Davis, on Oct 26, 2021 5:36:47 PM
Employers can expect a lot from employees in order to help accomplish the organization's goals and objectives. In the same vein, a lot is also expected of the employer not just from the employee, but expectations governed by state and federal labor laws. These laws regulate the employer / employee relationship.
Labor Laws: A Quick Introduction
Failure to adhere to the labor laws employers are subject to can expose the entire company to unnecessary liabilities. As such, it is crucial to understand and comply with these expectations, or labor laws, set forth for employers.
Labor laws typically provide guidance on employer and employment requirements in the following areas:
Proper hiring practices
Wage and hour requirements such as minimum wage, compensatory time, and overtime
Rules on working with and hiring independent contractors
Avoidance of workplace discrimination and harassment
How to conduct performance reviews, discipline employees, and write employee handbooks
Minimum requirements for different types of employee leave such as vacation, parental, and sick
Health and safety regulations such as OSHA and workers' compensation
Legal procedures for terminating employment
Although labor laws were primarily put in place to protect employees, there are also provisions that help protect employers and uphold policies included in employee handbooks.
History of Labor Laws
Though most labor laws today may seem like obvious human rights and protections, that was not always the case. Discrimination, for example, whether racial or gender-based, was not just a common occurrence but generally accepted by previous generations.
In the early 1900s, working conditions were appalling. 16-hour workdays for factory workers, skilled laborers, and even children for less than a dollar a day were commonplace. In fact, according to the U.S. Census of Manufactures in 1905, children averaged just $3.46 in wages per weekly pay period.
Author's Note: The cost of living in 1905 was much lower, yes, an apple cost ~$.04 back then vs. a little less than $.45 today. However, the above pay rate could buy ~84 of apples per week vs. ~650 apples per week today working 40 hours at the Federal minimum wage.
Coal mines were often some of the harshest work environments. For example, see the below, which is one of the many pictures taken in 1910 by Lewis Hine, an investigative photographer for the National Child Labor Committee (NCLC).
Photo 1835 of 5134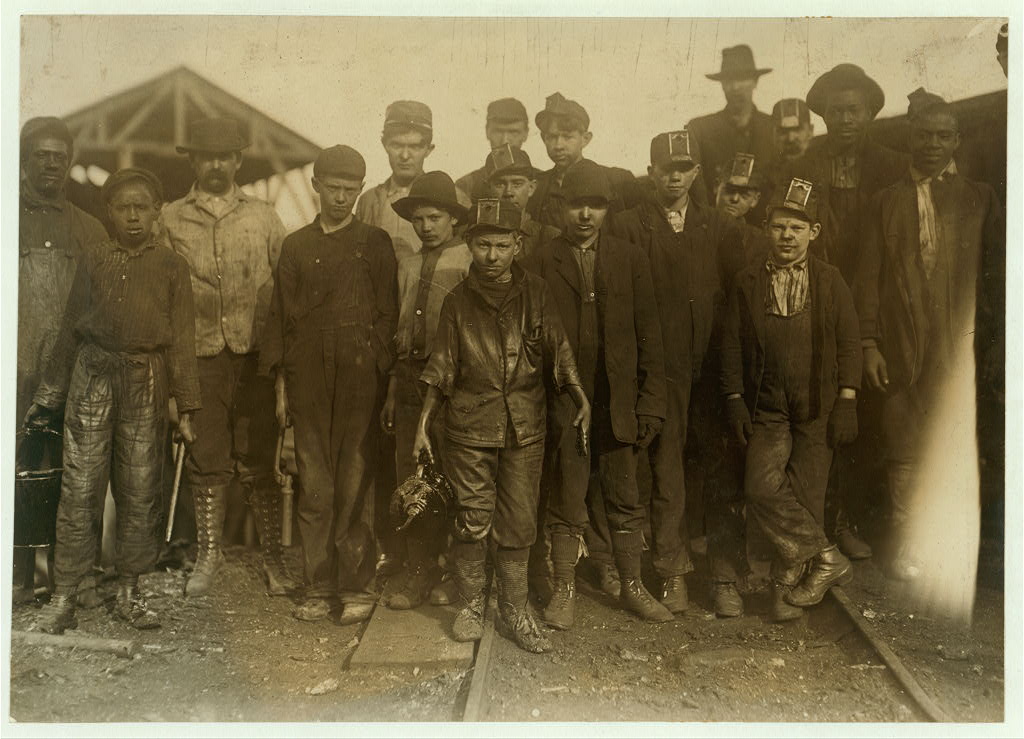 Credit: National Child Labor Committee collection, Library of Congress, Prints and Photographs Division.
Guidelines to ensure the safety of workers in hazardous conditions were almost nonexistent. As there were no strict requirements for employers to protect laborers, there were also no provisions for employees to file grievances without being victimized.
The National Labor Relations Act (NLRA) of 1935 (also known as the Wagner Act) would become the first step in the modernization of today's labor laws. It allowed workers in the private sector to form unions to fight for their rights. As a show of solidarity, most skilled laborers joined the unions. In the same year, the National Labor Relations Board (NLRB) was formed. The NLRB is an independent agency of the federal government whose responsibility is to enforce U.S. labor laws in relation to collective bargaining and unfair labor practices.
Shortly after, in 1938 the Fair Labor Standards Act (FLSA) was put into place. The FLSA covered things such as overtime compensation, what is included as hours worked, recordkeeping requirements, and child labor provisions. Above all, however, the FLSA brought the federal minimum wage into existence. Since 2009, the federal minimum wage has been $7.25 per hour.
Then, as an amendment to the NLRA, the Taft-Hartley Act was passed in 1947. Its goal was to bring a balance of power between employers and unions. It prohibits certain union practices, as well as requires the disclosure of certain financial and political activities by unions.
However, there were still issues with the existing legislation. To address the gaps in both the Wagner Act and the Taft-Hartley Act, in 1959 the Landrum-Griffin Act was created. It included several changes, designed to further balance the power between employers and unions.
Over the years, unions have influenced labor laws in the US, and more stringent measures have been put in place by the Department of Labor (DOL).
For the tens of millions of employers and hundreds of millions of employees, the United States Department of Labor has over 180 federal laws governing workplace activities. Some of the most important topics that are covered include:
Wage & Hours
Workplace Safety & Health
Workers' Compensation
Employee Benefit Security
Unions & Union Members
Employee Protections
Garnishment of Wages
Family & Medical Leave
Labor Law Posting Requirements
Veterans' Preference
Government Contract, Grants, or Financial Aid
Closings & Layoffs
While years ago employers only had to comply with federal labor laws, individual states started to implement labor laws as well. And for every one of the many federal labor laws, there are a plethora of related additional state-specific labor laws to be aware of and comply with.
Although these laws can cover many different topics, the most common types of state legislation typically focus on these areas:
Hour & Wage Laws
Overtime Laws
Meal & Break Laws
Leave Laws
Termination Laws
Unemployment Laws
Child Labor Laws
Each state or even city is different in factors such as economic stability, industries, and challenges. More importantly, some states have comprehensive state laws that go well beyond federal regulations, whereas others rely heavily on federal law. For example, Oregon labor laws are known for being some of the most extensive, often going well above and beyond federal labor law requirements.
As such, it's important to develop an employee handbook that will adequately cater to multiple states, should your business reside in multiple states, and update it on a recurring basis or as new laws evolve and existing laws are amended.
Many workers are working remotely in different states than where the business is located, especially in the aftermath of COVID-19. These remote employees are generally subject to the labor laws of the state they reside in, but that is not always the case. To comply with labor laws for remote employees, here is a 30-day free trial of a remote labor law management service.
Localization of Labor Laws and Legislation
Various economic factors not only vary state-to-state but may also vary in different areas of a single state. Keeping with Oregon as our example, here are a few ways labor laws can vary within the state itself:
Minimum Wage - Oregon's minimum wage in 2021 was increased to $12.00 / hour for companies operating in non-urban counties, $12.75 / hour for organizations within the standard counties, and $14.00 / hour for businesses in the Portland metro area.
Sick Leave Laws - Oregon's sick time law provides all employees with access to unpaid sick time off throughout the state. However, if the employer has 5 employees or more in Portland or 9 employees or more anywhere else in Oregon, employees must be provided with paid sick time off.
Over the years, states have adopted labor laws to suit employees' needs throughout the state. This is why businesses need to be aware of the specific requirements in each city or region of their state.
Labor Law Compliance
In the modern workplace, there are certain employee rights that are non-negotiable. Any violations can have significant repercussions, such as non-compliance fines and lawsuits. Apart from the obvious financial impact, such information can ruin a company's brand and reputation as well.
Here are some tips on how you can maintain labor law compliance:
1. Have the Necessary Policies in Place
Every industry is different, and so is every business. The first thing employers must do is figure out which of the many labor laws apply to the business and then set in place the necessary policies to ensure compliance. The most common difference in labor laws between industries is safety-related provisions. Incorporate all applicable laws into your employee handbook and HR policies and make them part of corporate culture to ensure they're observed at all times.
2. HR Services, Software, & Solutions
Technology is rarely ever thought of as a tool for improving labor law compliance. However, there are many HR software solutions or all-inclusive platforms that can monitor time and attendance, handle employee benefits enrollment and administration, help with recruiting / hiring and onboarding employees, and much more.
HR solutions can help employers maintain compliance across the vast spectrum of labor laws. The possibilities are virtually endless when it comes to options for HR software and solutions. So it's important to find a service provider that can help navigate what the business needs.
3. Labor Law Posters
All employers with at least one employee are required by state and federal labor laws to place labor law posters that detail all applicable provisions, in an easily visible and accessible location. Failure to display the appropriate state and federal employment law notices can attract penalties, fines, and lawsuits.
Labor Law Violations and Penalties for Non-Compliance
Labor law violations attract various fines and penalties. With the Civil Monetary Penalties Inflation Adjustment Act (Title 28 Part 85), government bodies have the power to increase civil penalties to account for inflation.
There are different factors put into consideration when calculating fines for violations. These can include things like:
The severity of the infringement
Number of employees
Number of such violations
Number of employees affected
Size of the business
The employee's employment status
Employer's responsibility
Here are some examples of fines that can be incurred for specific violations:
OSHA fines for serious breaches - $12,675

Repeat OSHA violations - $126,749

Fair Labor Standards Act for minimum wage and overtime rules- $1,925

Family Medical Leave Act - $166
As an employer, labor laws should not be viewed as concessions or limitations, but as the road map to unlocking employees' potential without. When employees are less concerned about their safety, being subject to discrimination, or getting fair wages, they'll be happier and more productive. This, in turn, should help employers accelerate company growth.